Travel with Purpose: How an iPhone Empowered 9 Women in South Africa
I first travelled to Cape Town and visited Khayelitsha on tour with James Fernie and his responsible tourism company, Uthando South Africa on December 10, 2012. We visited 3 inspiring development projects that day, but it was our first stop, at eKhaya eKasi Art & Education Centre that made the most impact. I wrote about that experience in Finding Ubuntu in Cape Town, South Africa.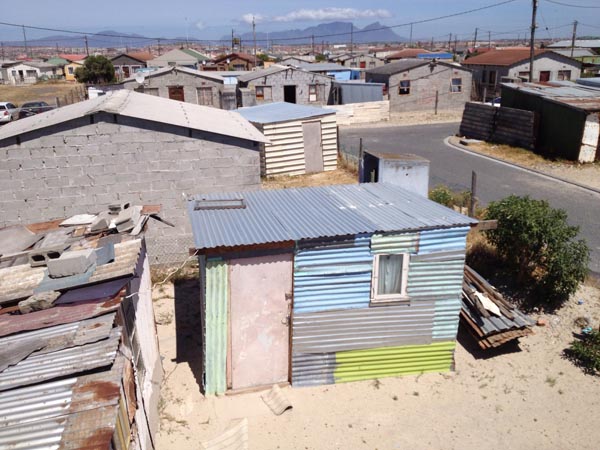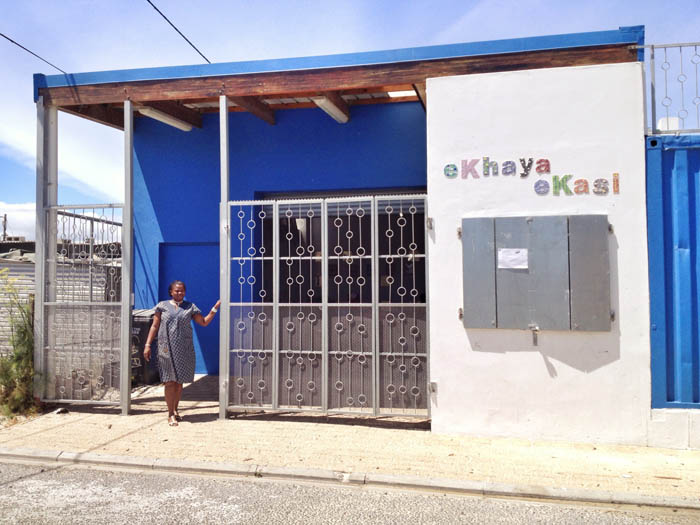 The Women's Skills Development (WSD) program teaches local residents, mostly unemployed mothers, skills in beadwork and printing t-shirts for local businesses as well as crafts. eKhaya eKasi's model of education and empowerment through the arts inspired me and as a woman and mother it spoke to me. I learned of the many issues women in the townships are faced with such as domestic violence, unemployment, HIV/AIDS and alcoholism and formulated ideas of how I could help.
After I returned home to Canada, I began research to find out more about the centre. I noticed that the photography section to their online shop was empty so I brainstormed ideas of how best to serve them using my professional photography experience of 10 years.
It wasn't until May 2013 when a contest, G Project by G Adventures and Planeterra, made an open call for ideas that could make a difference, asking "what will you do today for tomorrow?" that I really gave it more serious thought and put together a plan.  The heART of a Woman Project (thoaw) was born.  I entered the contest and though I didn't win, I made a commitment to myself to see the project to fruition. I knew that even if I travelled there with my own 2 iPhones and my own money, it would make a difference. I believe in the idea that anyone could make a difference and Lao Tzu's philosophy "a journey of a thousand miles begins with a single step."
I had always lugged around my dSLR on my travels,  but I felt it was cumbersome. When the iPhone was released in Canada in July 2008, I jumped right in. I was 5 years into my photography business, slowly burning out and losing passion for photography.
With the iPhone, the camera that is always with me, I began to photograph daily life. Instead of photographing only poses and occasions like birthdays and holidays, I captured moments and 'ordinary days'. I employed everything I knew about photography, but experimented even more. The iPhone restored my passion in photography again and I was more creative than ever.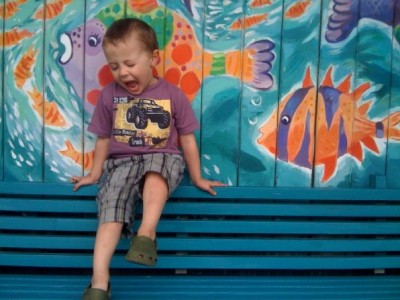 My son in Aug. 2008, taken with an iPhone 3G… he's dancing. This is a framed print in my home.
In March 2011, during a milestone birthday trip to London and Paris, my dSLR remained in my hotel room the entire time. I was loving the results with my iPhone 4 and the Hipstamatic app, even from a moving bus and through windows. After I returned home I put together a photo book of that trip that I made in iPhoto. When I received it, I excitedly raced through the photos in the book and KNEW that mobile photography had arrived.
I have since upgraded to an iPhone 4s and 5s and created another photo book after my travels to Senegal and South Africa in December 2012. With the advances in technology and apps, I knew the potential of the iPhone and how so much could be achieved with just one device. From creating the image to post-processing to sharing on social media to printing through apps that specialize in mobile camera photo products. The learning curve is easier, the phone is mobile and unobtrusive and the costs affordable, especially with used or donated devices. People are always upgrading their iPhones. I know this because 2 of mine are now in Khayelitsha!
With the help of fiscal donors through crowdfunding on Indiegogo, some sponsors, travel and mobile photography bloggers spreading the word and 11 donated used iPhones I returned to eKhaya eKasi. I taught an 11 day workshop in photography, mobile technology and social media to 9 unemployed women, mostly mothers, from Khayelitsha, South Africa, a township just 40 minutes from the Cape Town city centre from November 15-29, 2013.
For 2 days we photographed in and around Khayelitsha. I then went through all the images (3000+), post-processed 1 from each woman and submitted the files to a local printer to be printed as postcards. The idea was for the women to earn a sustainable income through sales of their postcards to tourists in their on-site boutique at the centre and in the tourism market in Cape Town. Additionally, they are being sold online.
Update: We have recently acquired our 1st retailer, the award-winning The Backpack.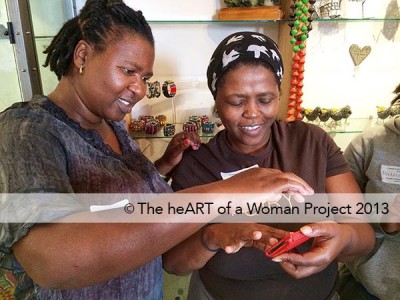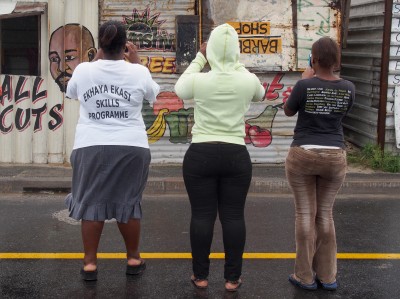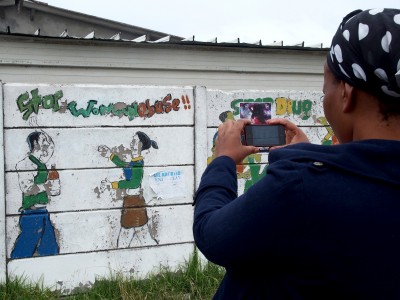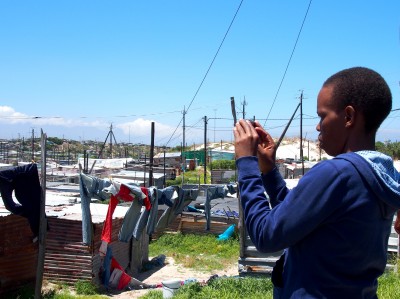 On November 30th, we received the postcards from the printer at our braai (barbecue). I laid all the postcards out on a table (200 per participant) and invited each woman into the room to see their postcards for the first time and handed them over to them.
Each woman stayed in the room as we welcomed the next woman in and by the end of it all, their faces were lit up and they were full of smiles and pride. My friend and great supporter from Cape Town Florence, with her husband Bruce and colleague in tourism, Herve were in attendance. Flo captured most of it on video and they bought the first set of postcards.
One woman shared that she was able to give her son some money so he could take the train to look for a job, another shared she gave some to her grandmother and another said she was able to buy shoes. The postcards are continuing to sell at eKhaya eKasi where they welcome tourists.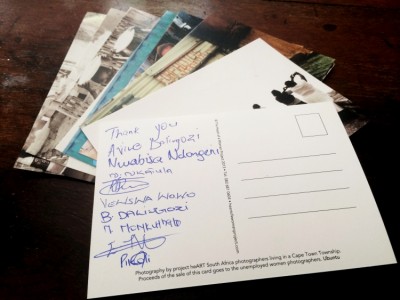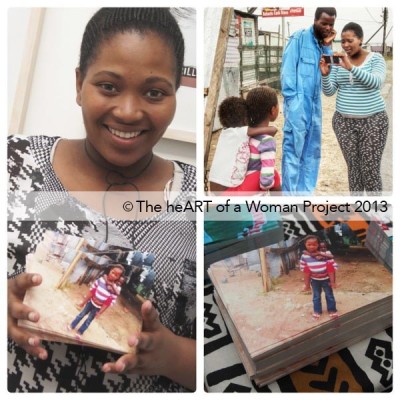 To see the extended 14 minute version – http://www.youtube.com/watch?v=lDGagpZyWuA&list=UU4ytYFGAq-tfe0D6WFI6PRw&feature=share
There were so many memorable moments during my time with the women – touring Cape Town, the beautiful sunset we experienced on Signal Hill as we looked out to the ocean and Robben Island, the ride up to Table Mountain, the drive around the Cape Peninsula, seeing the movie Mandela: Long Walk to Freedom together, walking around the township and the braai.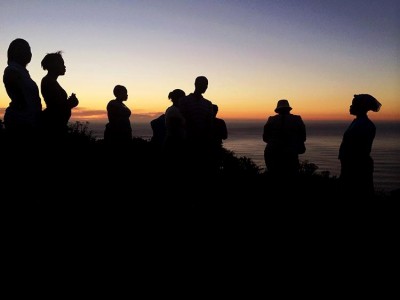 Some of the moments that will stay with me for a long time were the "in between times", the meals together and just driving around in the combi (van) as we travelled from place to place.
I really tried to be mindful of my experience and take it all in. I felt privileged to be with the ladies of #thoawSA and to be immersed in such a way.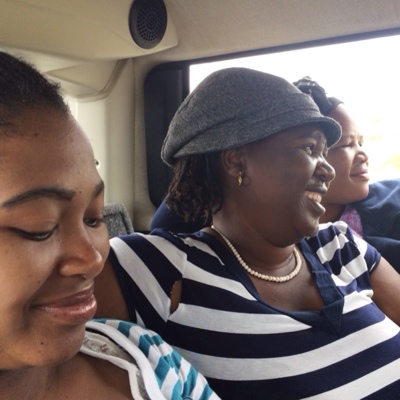 One of the moments I remember was when we were going back to the centre after 2 days of documenting township life, the energy felt high even though we had spent much of the time photographing in a light rain. As the kwaito music played, some of the women danced in their seats while others chatted away in isiXhosa. Their smiles could light a room and the laughter that filled the van was infectious. At times I had no idea what they were laughing about, but I laughed along with them. I remember looking out the window and as the flurry of activity flew by me – the people, the homes, the colourful shops, the playful children and the cows that roamed, I recall feeling grateful.
I felt grateful to be experiencing it cozily in between the 9 women that joined me in the back of the van and on this journey. I felt proud of what we had accomplished in such a short time together. I could sense that this was something special. In some ways, it felt like just an ordinary day, though I know that all of my days with them were extraordinary ones and part of a time I will not soon forget.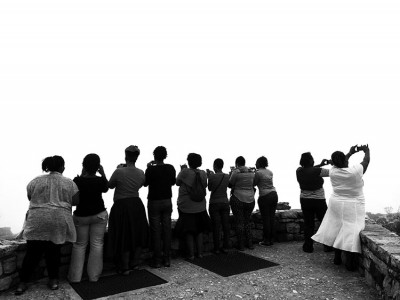 Until next time,
Andrea …and my wandering iPhone
You can follow me at @wanderingiphone on twitter & Instagram and follow our hashtag #thoawSA to see tweets & photos from myself and the participants.
I've been a professional photographer since 2003 and am the founder of The heART of a Woman Project (thoaw). THOAW is committed to providing education, on-going guidance and support to Project heART South Africa (thoawSA) to help the women achieve sustainability to support themselves, their children and their community at eKhaya eKasi which serves over 400 local residents.