The Last 30 Puppeteers of Yangon, Myanmar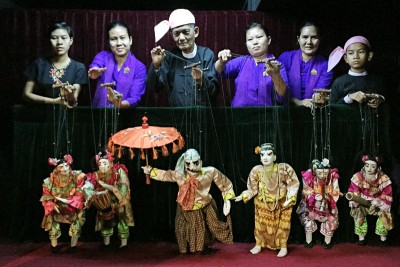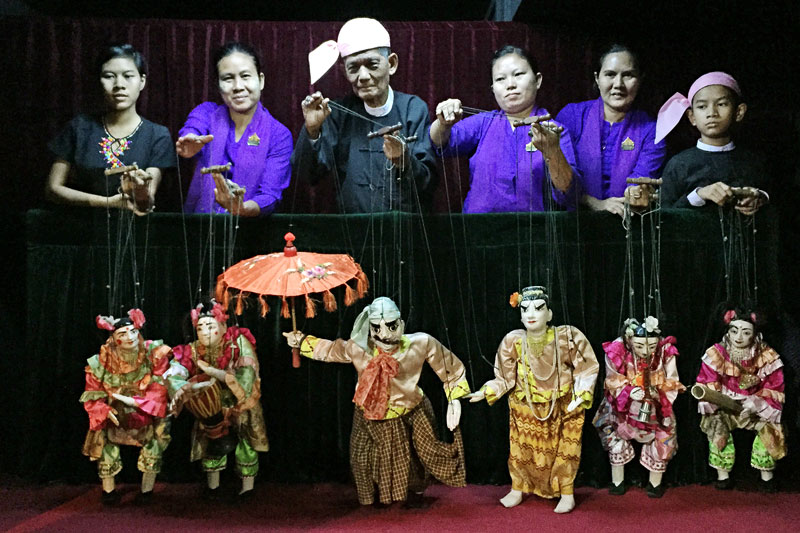 The International Folk Art Market (IFAM) is the largest of its kind in the world, bringing Folk Art artists and their cooperatives from all corners of the world to Sante Fe, New Mexico. In the past ten years, 780 artists from 80 countries have participated in the Market generating more than $19 million in sales, 90 percent of which has gone home with the artists. For one weekend in July, you meet the world.
I met Khin Maung Htwe and Tin Tin Oo, a husband and wife team from Myanmar who specializes in traditional Myanmar puppetry. Khin Maung Htwe and his cooperative, Htwe Oo Myanmar are based in Yangon where they also have a puppet theatre in downtown Yangon. They travel the world to share their art and participate in puppetry competitions. 
Htwe Oo Myanmar's puppetry follows 600 years of tradition and represents the less than 30 remaining puppeteers in Yangon. The puppeteers make the marionettes featured in their shows and for sales in their on-site shop and markets such as IFAM.
Traditionally the puppets were used for education and entertainment and played a role in media, reporting sensitive events to the king through stage performance.
Htwe Khin Maung and Tin Tin Oo brought their 10-year-old son, Thet Paing Htwe Oo to Santa Fe as they have passed down the traditional art form to him. The mother and son duo performed on the stage at the Market throughout the weekend.
I can't wait to travel to Myanmar for the first time with my father in October 2015 and plan to isit Htwe Oo Myanmar when I am there.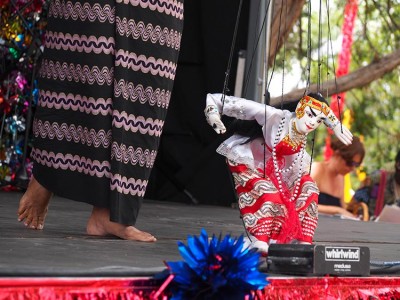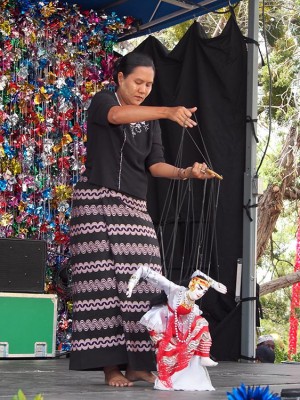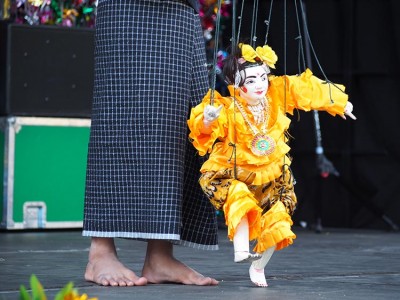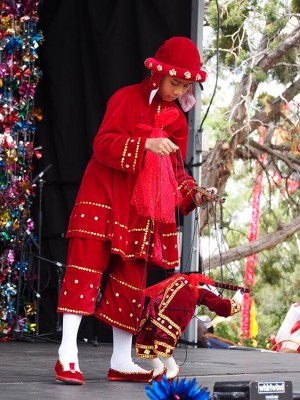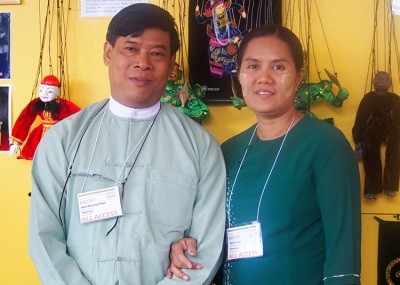 Until next time,
Andrea… and my wandering iPhone
UPDATE: 
On October 31st, 2015 — While in Yangon, Myanmar visiting family and travelling the country, my family and I went to the Htwe Oo Myanmar puppet show. The theatre is located on Sule Pagoda Road near the Sule Shangri-La hotel. It was easy to make reservations which can be done by calling or emailing.
We were treated to a 45-minute show as well as a history of puppetry. After the show, we got to try our hand at puppetry. They make handling the marionettes look so easy, but I can assure you it's not.
My family in Yangon had never seen a Myanmar puppet show before and enjoyed it as much as I did. We had many laughs as we each took turns trying the puppets. It is an excellent show and a fun night out in Yangon. If you're ever in Yangon, be sure to visit the family-run Htwe Oo Myanmar.