The Last 30 Puppeteers of Yangon, Myanmar
I was excited to meet the Artists from Myanmar at the International Folk Art Market in Santa Fe, New Mexico this past weekend as my father and Gran are from Myanmar (Burma).
The International Folk Art Market is the largest of its kind in the world, bringing Folk Art artists and their cooperatives from all corners of the world. The market showcases artists who offer beautiful work that draws on timeless traditions.
In the past ten years, 780 artists from 80 countries have participated in the Market generating more than $19 million in sales, 90 percent of which has gone home with the artists. Social entrepreneurship is the centrepiece of the Market as many of the artists come from less developed communities where the average income is less than $3 a day. For one weekend in July, you truly get to meet the world.
I met Khin Maung Htwe and his wife Tin Tin Oo. Khin Maung Htwe and his cooperative, Htwe Oo Myanmar are in Yangon. The artists from the cooperative make the wood marionettes used in their puppet shows and with such detail, they require the work of 3 or more artists to complete.
Htwe Oo Myanmar represents the less than 30 remaining puppeteers in Yangon. Their puppetry follows 600 years of tradition. Historically the puppets were used for education and entertainment and played a role of media, reporting sensitive events to the king through stage performance.
Htwe Khin Maung and Tin Tin Oo brought their 10-year-old son, Thet Paing Htwe Oo to Santa Fe. On Sunday July 13 Tin Tin Oo and Thet Paing Htwe Oo performed on the main stage of the market.  Htwe Oo Thet Paing performed with 2 different puppets including Zaw-Gyi, the puppet in red.
Zaw-Gyi means Alchemist in Burmese and is a sign of health. He attained supernatural powers by practicing the art of alchemy and can fly through the sky, travelling beneath the earth and oceans. The stories come from ancient Buddhist stories.
I loved the way his mother, Tin Tin Oo danced as she made the puppet move.
Can't wait to travel to Myanmar for the first time with my father in October 2015. Hope to visit Htwe Oo Myanmar when I am there.
UPDATE: 
On October 31st, 2015 — While in Yangon, Myanmar visiting family and travelling the country, my family and I went to the Htwe Oo Myanmar puppet show. The theatre is located on Sule Pagoda road near the Sule Shangri-La hotel. It was easy to make reservations which can be done by calling or emailing.
We were treated to a 45-minute show as well as a history of puppetry. After the show, we got to take a photo of the group and try our hand at puppetry. They make it look so easy, but I can assure you it's not. My family in Yangon had never seen a Myanmar puppet show before and enjoyed it as much as I did. We had many laughs as we each took turns trying the puppets. It is a wonderful show and a fun night out in Yangon. If you're ever in Yangon, be sure to visit the family run Htwe Oo Myanmar.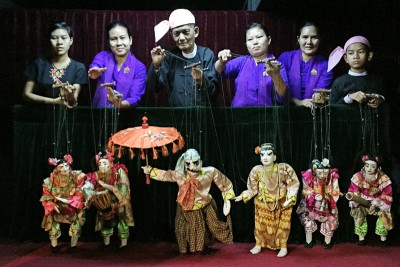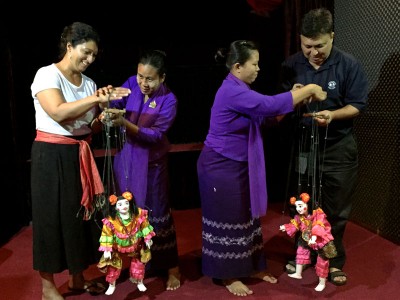 Until next time,
Andrea… and my wandering iPhone