My husband, two sons and I arrived at Vergenoegd, a wine estate at the start of the Stellenbosch wine route in the Cape Winelands on a beautiful summer day in February 2016. We followed the long gravel road off the R310, past the pond where resident geese and native wild birds relax and parked under the towering oak trees.
My 5-year-old son immediately started to explore and was excited to find acorns on the ground. "We have acorns in Canada too, mom".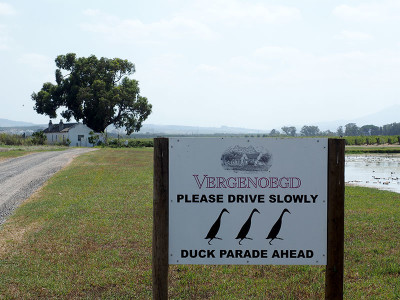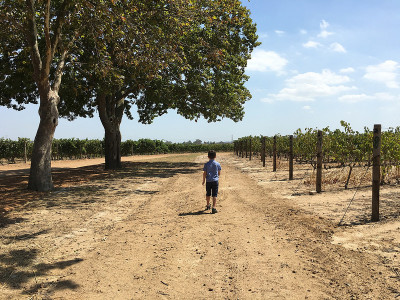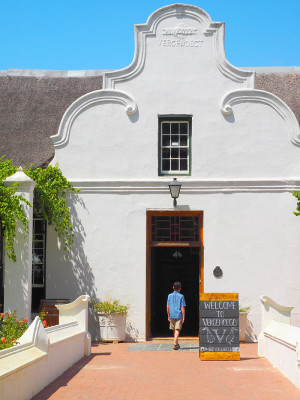 We entered the outside dining area where the long table was located, to a glass of Vergenoegd bubbly and were greeted by a friendly goose. My youngest son was enamoured with Rocco, the resident goose and showed him the acorn that he found. Chef Ryan Shell then introduced him and his older brother to Rocco.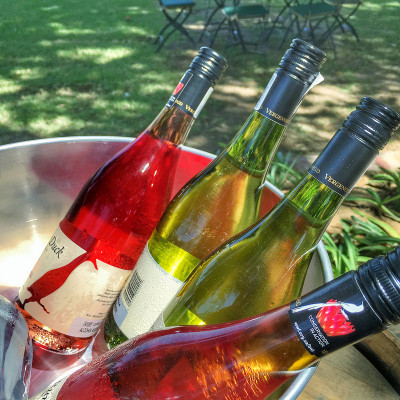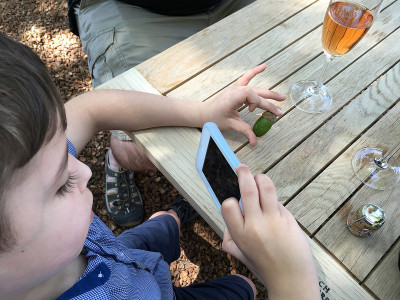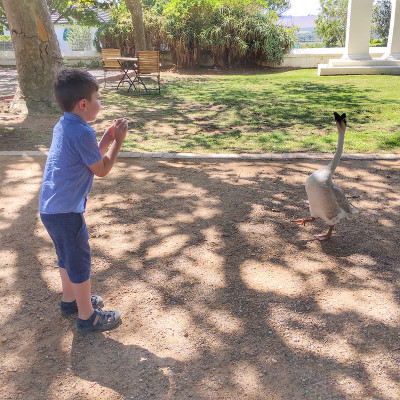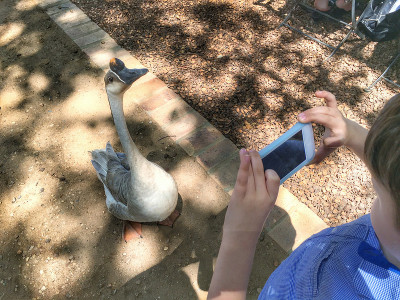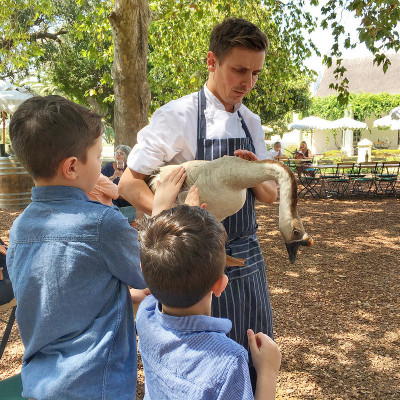 I instantly fell in love with the long table and the beautiful setting under the trees. I've always liked and enjoyed the idea of a community table and the intimate feeling it brings. Winemaker Marlize Jacobs, managing director Peter Stuart and marketing manager Nicole Arnold also joined us at the table. It was wonderful to have their company and an excellent way to learn more about the processes at Vergenoegd.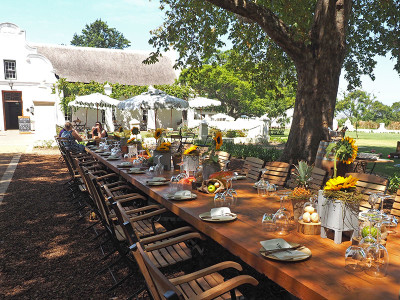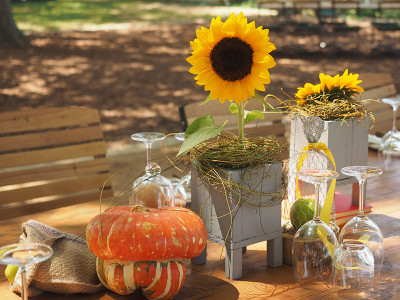 Before their picnic lunch, my youngest son took some time to enjoy one of his favourite activities, colouring, while his older brother played with a ball. He then joined his brother and soon there were laughs and shrieks at each miss of the ball.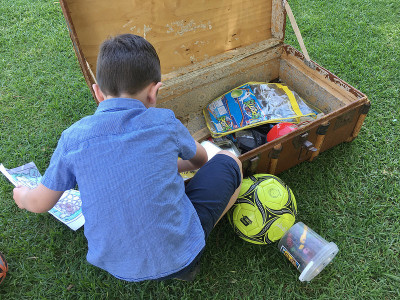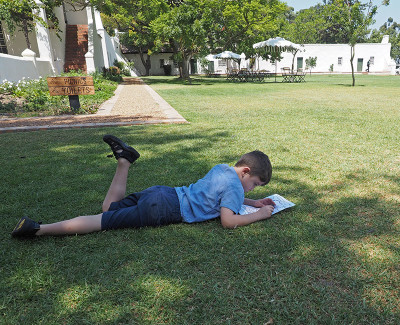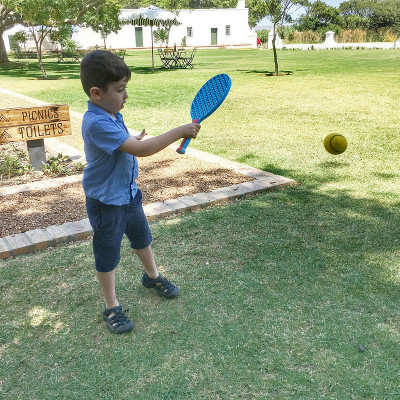 While my husband and I were at the long table, the boys had a picnic lunch on the lawn. They had a blanket, boxed lunch and a trunk full of toys and games to choose. They had ample room to run and play. We didn't have to try and keep them still or occupy them while trying to eat our 3-course harvest meal; instead, they were free to be kids. Just the way they like it.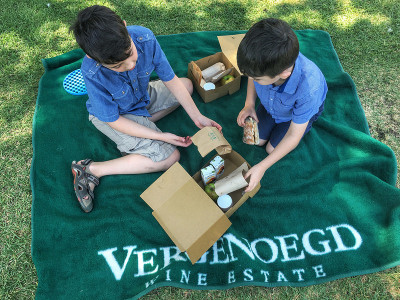 We could enjoy our delicious meal prepared by Chef Ryan that included freshly harvested vegetables. Though I checked in on them from time to time, they also had the watchful eyes of childminders and were taken care of as well as my husband, and I were being taken care of. Thank you Vergenoegd.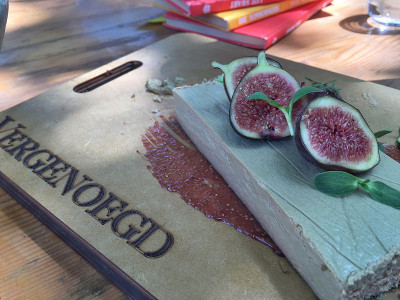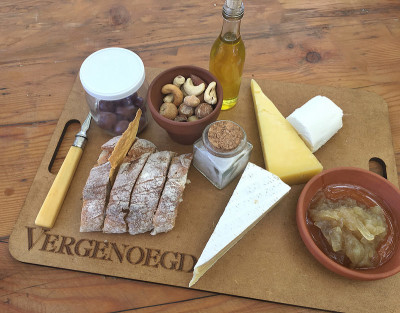 After lunch, my husband and I went inside the Manor House for a blending experience. We could choose from wine, coffee, tea or olive oil. He chose coffee, and I picked tea. I wondered how we were going to join in the blending experiences with kids in tow, but Vergenoegd made sure to take care of those details, perfectly. A childminder sat with them and helped them while they decorated the cookies that were included in their picnic lunch.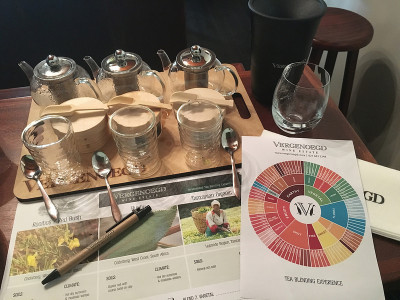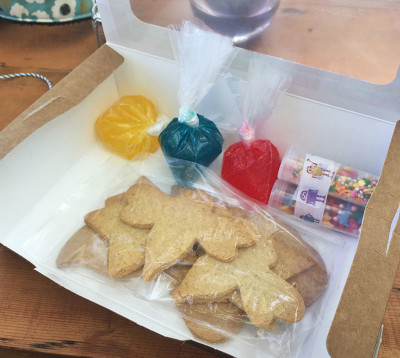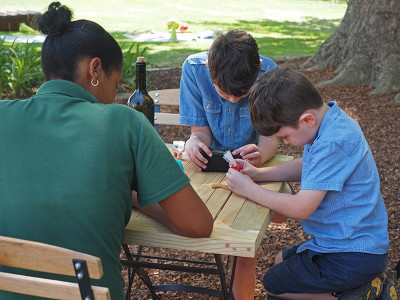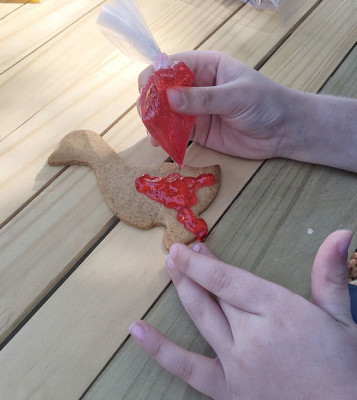 Vergenoegd is home to 1100 runner ducks that set out each morning for the vineyards where they work at keeping the snails away. As they go out in the morning and return in the afternoon, they parade past the Manor House. After our separate experiences, we all came back together on the lawn for the duck parade. What a unique experience and event to watch, not to mention how adorable it is. It's such a great idea in helping to keep the snails away and lowers the need for pesticides.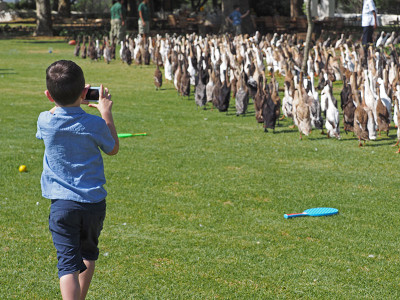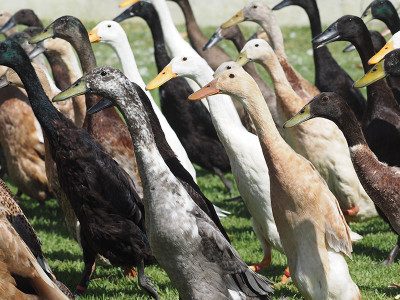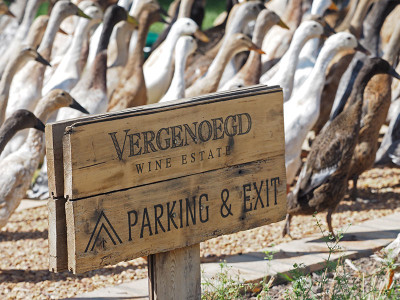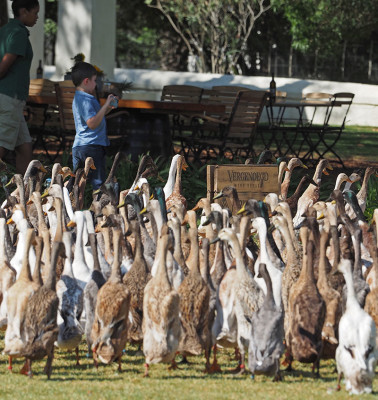 I didn't think visiting a winery while on a family trip to Cape Town, South Africa was possible, but I quickly learned otherwise. There was no shortage of activities for children, with treats and surprises along the way. Vergenoegd knows kids. The childminders were a welcome addition as it gave my husband & I a chance to participate in the blending experiences and time to enjoy the harvest lunch and conversation at the long table.
Our afternoon at Vergenoegd was truly enjoyable for each of us and a highlight of our time in Cape Town. We are now back home in Canada and are still talking about it. Just the other day I enjoyed some rooibos and bachu tea that I purchased after my blending experience. Thank you Vergenoegd for an enjoyable first experience at a Stellenbosch wine estate, we'll be back.
Video:
Watch this short video and see the highlight of our duck parade — a duck bouncing to its own beat!
Note: We visited Vergenoegd Wine Estate by invitation from Destinate and Vergenoegd Wine Estate. As always, all opinions are my own.