Phaung Daw Oo Pagoda Festival – Inle Lake 
The excitement was palpable as we met up with a procession of 20 long boats each with 100 rowers for the Phaung Daw Oo Pagoda Festival in Inle Lake, Myanmar.
This religious festival takes place around the villages of Inle Lake for 18 days leading up to the full moon in October and the lighting festival known as Thadingyut.
Four holy images of Buddha from the highly revered Phaung Daw Oo Pagoda travel on the Royal Karaweik (mythological bird) barge and are towed by rowers from village to village, spending a night or two in each village's monastery. In October 2015, I had the opportunity to witness this unique festival.
After travelling by longtail boat for an hour from the jetty in Nyaung Shwe, we came upon several other teak wood boats waiting along the banks, each filled with Buddhist devotees with gifts of flowers and food for Buddha. It was 7:30 am, and we had made it to a smaller part of the lake. The people in the homes that lined the water's edge watched from their windows, sat on the stairs that led to the water or on their small docks. They also had food and gifts, and many dressed in their best longyis.
Just after we arrived the first boat with 100 male, Intha rowers appeared. Each boat had music, and the men wore the same colour of traditional Shan clothing. They rowed with their leg wrapped around their oar sometimes switching to row with their hands. Some stood on the upper part of the boat and danced.
It was a festive and happy celebration though the people waiting for the barge appeared solemn. They bowed as the Royal Golden Karaweik passed.
Many boats joined the procession and followed as it made its way to the nearest monastery. We did too and soon found ourselves in the heart of it all, sandwiched between boats and at times we bumped.
We followed a few boats to a narrow channel just off the main traversing part of Inle Lake to watch as the procession passed through the small village. It was unlike anything I had ever experienced before and a wonderful way to bring in Thadingyut.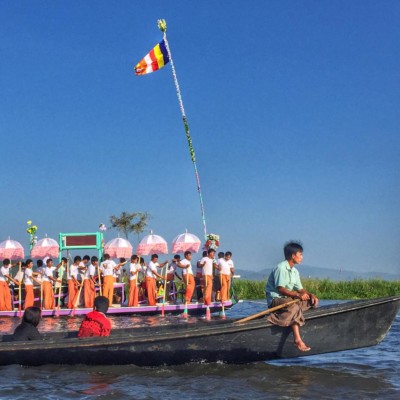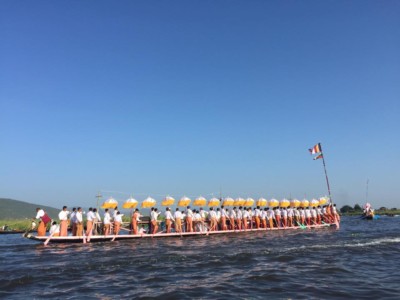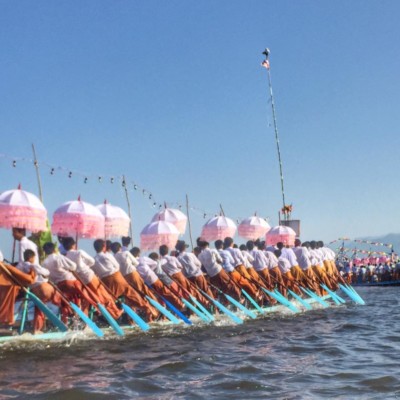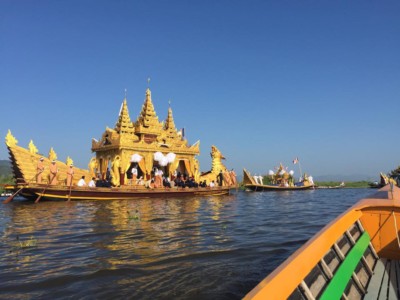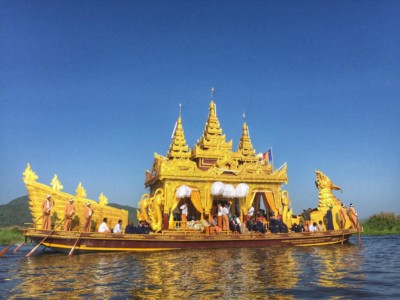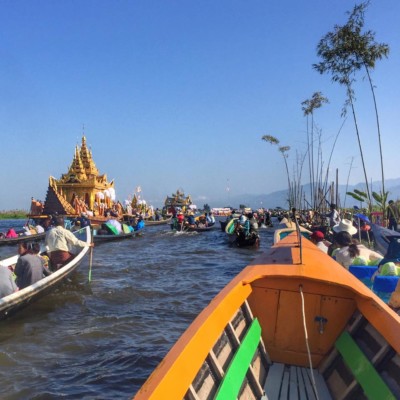 Thadingyut, the Festival of Lights – Inle Lake, Yangon & throughout the country
Thadingyut, the Festival of Lights is celebrated the day before, after and on the full moon day, usually in October, in Myanmar. It is in the seventh month of the Myanmar calendar, and the end of the Buddhist Lent. Do check for the exact dates if you plan to attend.
Young people pay respect to their parents and older relatives. My father, grandparents, great and great great grandparents are from Myanmar. For three years I had planned to visit Myanmar to coincide with Thadingyut as a way to honour my Burmese relatives and ancestors.
In October 2015, I finally got to visit the country for the first time with my dad and cousins. We celebrated Thadingyut in Naung Shwe (Inle Lake).
Homes, pagodas, monasteries and open market shops were lit with candles, and a few paper lanterns dotted the sky. There was a constant sound of fireworks and firecrackers going off. My father bought some as well and asked the shop owner to light them. He also popped a few off as he remembered doing as a teenager in Yangon.
I watched as two young men lit candles to put into the wall surrounding the Yadanar Manaung Pagoda and asked to take their photo. They agreed and gave me a candle to light too.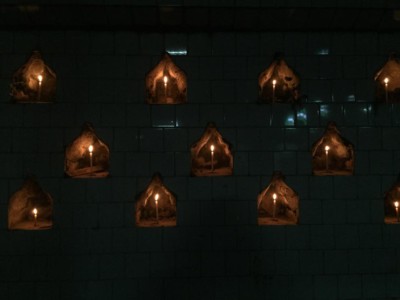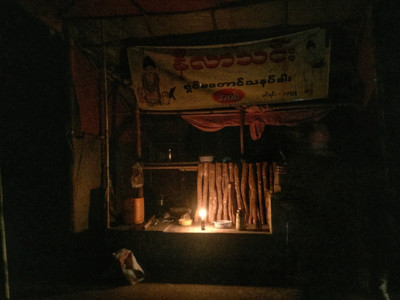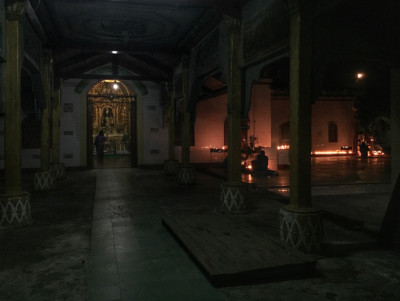 More:
Watch my view of Phaung Daw Oo Pagoda Festival from inside a longtail boat.
Thadingyut in Yangon
A street fair takes place in downtown Yangon. I've seen photos of the event from relatives there. It seems like it's a good time to be in the city. Unfortunately, it was raining when we arrived late from Inle Lake on the last night of the festival