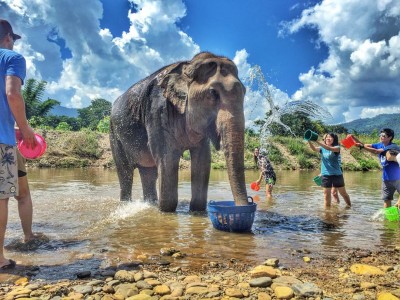 Pampering a rescued Asian elephant at Elephant Nature Park (ENP) in Chiang Mai, Thailand was one of my favourite experiences in 2015. We joined them in the river and helped them stay cool by throwing buckets of water on them. It was a heartwarming experience and wonderful to watch them play freely after their 'bath'.
ENP is a sanctuary for rescued elephants from the tourism and entertainment trades in Thailand. Every elephant has a heartbreaking story. To help, you can visit ENP as a day visitor or overnight guest or you can stay longer and volunteer.
Also, don't ride elephants in Thailand, South Africa or anywhere. They are wild animals even if born in captivity. In order to ride an elephant in the tourism industry they need to be 'broken' and there is a lot of evidence that states the process is very cruel.
If you love elephants that much and want to be close to them, please consider visiting them at Elephant Nature park instead. You can walk with them, bathe them and even have your photo taken with them.
Read: If you love elephants, don't ever ride them. Here's why. 
Visit elephantnaturepark.org