Continuing with a new series on the wanderingiPhone blog 'in 9 squares'. 
In March 2012, I went on a solo trip to Europe. One of the cities I visited was Prague. In my research, I came across comments that suggested that Prague may not be safe. I took Prague off my itinerary but then put it back on as it was a city I wanted to visit. I am glad I did and am happy to report that I felt completely safe and my visit was without incident.
I, unfortunately, had only a short time in Prague and felt like I only scratched the surface of this beautiful city. I made the most of my time there but with its architecture, bridges, churches and overall charm, I'd love to go back and explore more and travel deeper. My favourite time of day was just as the sun was beginning to set and as the lights on the buildings started to shine. The only word I can think of to describe it, magical.
Here are my favourite 9 Instagram photos from that trip. Click on the 9 squares below to see a larger version.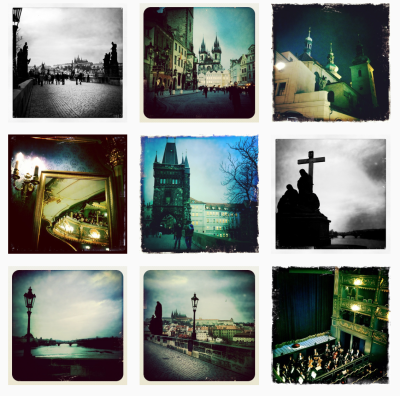 Walking through the cobblestone streets with a hot Svařak (mulled wine) in hand as you make your way to Charles Bridge.
Standing on the infamous Bridge overlooking the Vltava River with several other bridges in the distance.
Watching a Mozart opera in the same building that Mozart debuted Don Giovanni over 200 years earlier in 1787.
These are the memories that play over in my mind and I hope to return with my family and learn more about the culture and history as I recently learned that a maternal great grandmother is from the Czech Republic.
March is a great time of year to visit Prague. It's off season and there are deals to be found. I stayed at the 5-star Hilton in Old Town for only $70USD per night thanks to a winning bid on Priceline's 'name your own price'.
To see the photos on Instagram along with their detailed captions, visit wanderingiphone on Instagram.