This week I'm starting a new series on the wanderingiPhone blog 'in 9 squares' with a focus on a destination I have travelled to and my favourite 9 Instagrams.
The weekend of April 22, 2016 I went to California with my father to meet relatives I had never met and up until about a 2 years ago didn't know existed. After some research and DNA Ancestry, we connected. I'll save that story for a later post.
Between family dinners, lunches and discovering Burmese restaurants in Palo Alto and Berkeley, we saw a bit of San Francisco and Palo Alto and drove the infamous Pacific Coast Highway from San Luis Obispo to Monterrey, California after driving down to Santa Barbara to meet more relatives. Here are my favourite 9 Instagram photos from that trip. Click on the 9 squares below to see a larger version.
To see the photos on Instagram along with their detailed captions, visit wanderingiphone on Instagram.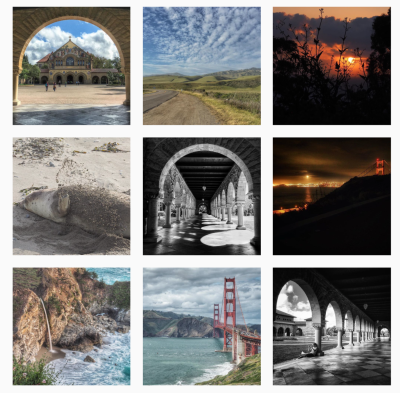 If you're looking for a Burmese restaurant in the San Francisco area, check out Burma Ruby. It's been my mission to find Htamin Lethoke (rice salad) like the way my grandma, grandaunt and I make it. I have to say Burma Ruby is the closest I've come to that taste. So good.
Incase you're wondering, my father, grandmother, some great and great great grandparents come from Burma or what is known as Myanmar and I still have over 100 relatives there. Read about my travels to Myanmar in The long road to Mandalay and my Myanmar travel tips in 6 things to know about travelling to Myanmar in 2016. I'm a first generation Canadian and have a very ethnically diverse family who moved around a lot. I swear I come by a 'travel gene' honestly 😀