Finding Ubuntu in Cape Town, South Africa
From spontaneous drumming with a young shopkeeper at the popular V&A waterfront arts and crafts building to hearing the personal path of an apprentice Sangoma in a local township to singing Christmas carols with 5000 locals against the backdrop of Table Mountain, it was the most incredible trip of my life. I went to the Cape for the great white sharks, the penguins and the scenery, but came home with moments that I will never forget.
After 1 night in Johannesburg and 2 amazing nights in the Greater Kruger Park area with nature and wildlife, I arrived in Cape Town. My priority in Cape Town was not to see the view from Table Mountain or to drink the night away on Long Street, not that there is anything wrong with that; but for me, it was to visit a Township. I knew of some history and issues facing South Africa, so I couldn't visit Cape Town knowing what lay outside the city bowl. I wanted to learn of the issues and the ways people were working to uplift their communities and more importantly I wanted to contribute to the local economy. I also wanted to donate in a more tangible way by bringing needed items with me from Canada.
Inspiring Community Development Projects in Khayelitsha
I found Uthando South Africa on Trip Advisor and contacted James (the director) about his trips to development projects in Khayelitsha. It was important for me to visit a township in a responsible way and in a way that was respectable and not intrusive. After reading reviews and learning that you visit community development projects and that Uthando is a non-profit and fair trade certified tourism organization, I was sure that I had booked the right "tour"
EKHAYA EKASI ART & EDUCATION CENTRE
Our first stop was to eKhaya eKasi Art & Education Centre.  We met Lulama, the director of the centre and were given a tour and history of the centre. We learned about the programs such as women's skills development and had an opportunity to see some of the women creating handmade crafts. I loved that the centre empowers women by teaching them arts and crafts so they may sell their products to provide for their families. At the end of our visit, we had the option to visit the on-site boutique where we were able to purchase the crafts that were made by the women and other artists in Khayelitsha and South Africa. Some of my favourite souvenirs and gifts for family and friends such as the heart ornaments made of shweshwe fabric, a traditional South African fabric, were purchased there. It was an opportunity to buy local and make a direct contribution.
I was then able to personally give the donated items I brought from Canada. To be able to choose, purchase, pack, carry and pass them from my hands to Lulama's was an incredible feeling. Visiting the centre with Uthando was a definite highlight of my trip to Cape Town. It was inspiring to see the great things that were happening at eKhaya eKasi.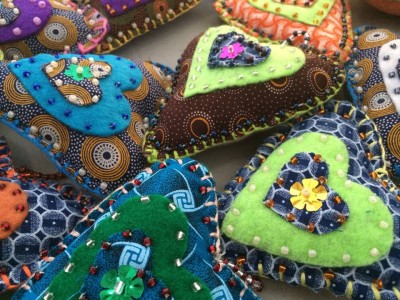 ABALIMI BEZEKHAYA
We then continued on to Abalimi Bezekhaya's organic garden centre in Khayelitsha where we met Mama Nokwanda. We learned how the women learn how to grow, harvest, provide for themselves and sell their produce to organizations outside of the Townships. Great progress had been made in the area of organic produce especially considering the dune-sand conditions on which they grow the vegetables.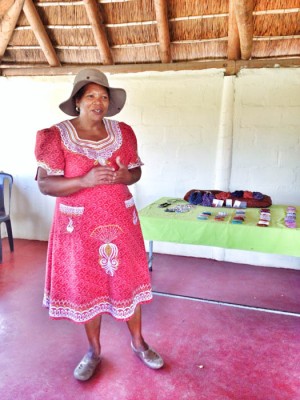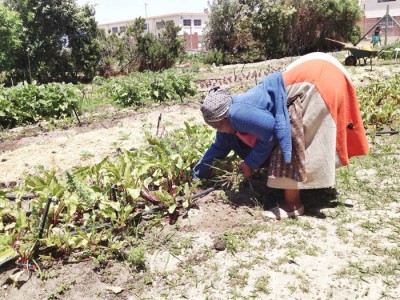 THOKAZANI BROTHERS
Our final visit was to the Thokazani Brothers. They are a choir that originally started with a group of men, but has expanded to include male and female youth from the township. They sing traditional songs. In addition, the adult leaders provide counselling and friendship to the youth and the building houses a creche (daycare). This group is sponsored by Uthando South Africa and were getting ready for a very important performance at Kirstenbosch Gardens for the 20th anniversary of Carols by Candlelight that was only 3 days away. We were treated to a beautiful performance by the youth of Khayelitsha. I had no idea what was being sung as it was in  isiXhosa, but music has a way of expressing itself universally and I found it moving.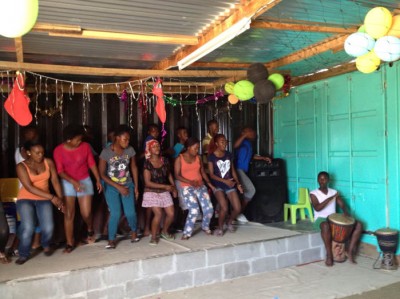 Thokazani Brothers, Khayelitsha, South Africa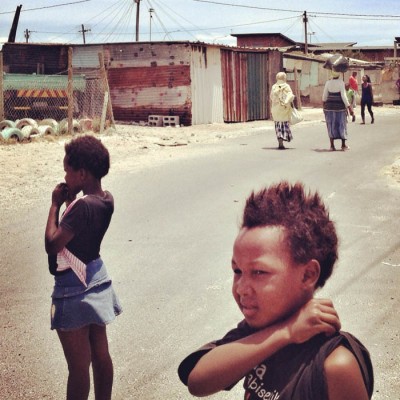 My visit to each of the community development projects in Khayelitsha left me feeling inspired and moved. It was amazing to see the work being done by community members and leaders, a real grassroots endeavour. Each leader of the projects works hard to pass on skills and to uplift and empower their communities and they do so with such passion and commitment. Every tour booked with Uthando contributes to the projects visited.
Getting in the Christmas Spirit with New Friends
A few days after my tour with Uthando, James invited me to attend Carols by Candlelight at Kirstenbosch Gardens with him and a few of his friends. The Thokazani group that I heard sing in Khayelitsha was the opening act. It was a thrill to not only watch them perform but to see the pride on their mother's faces as they watched the group on stage.
The Christmas carol sing-a-long began around 8 pm in the shadow of Table Mountain, under starry skies and with the shimmering lights of Cape Town in the background. It was a different experience for me to not only be singing Christmas carols in the middle of summer rather than in winter but to do so with 5000 Capetonians. It was a great night and perfect way to end my time in Cape Town.
Spontaneous Drumming at the Market 
While wandering around the V&A Waterfront, I happened upon a djembe stall. I stopped to check out the djembes (African drum) after having lessons in Senegal the week prior. The young man who worked the shop insisted in hearing me play the djembe even though he knew I had only 2 lessons. He made me feel comfortable to play in such a public place and next thing I knew, we were jamming. He showed me some beats on the drum and we played together for almost an hour, people even stopped to watch. Though we came from two completely different backgrounds, we connected in that experience and our mutual love of the African drum.
Participating in the Cape Town Carols was another highlight and I enjoyed my time with the 4 people I met and spent that evening with. I was given a ticket to the event, welcomed by the group of friends, shared in their food and drink, sang and laughed with them and felt as if I had known them for a long time.
I had never encountered such openness and warmth as I did in Cape Town. I am grateful for those moments and the people I met. I know that without those experiences my time in Cape Town would only have been a series of proud accomplishments especially as a solo traveller rather than a journey of my heart. The moments inspired me to continue to live a life with an open heart. That time will forever stay with me.
I learned of the term Ubuntu, a beautiful word in the isiXhosa and isiZulu languages that in summary means "I am what I am because of who we all are." Ubuntu speaks of the interconnectedness of all people. It is openness, caring, respect, love, community, humanity, compassion and sharing to name a few adjectives that describe the essence of the word.
These experiences in Cape Town taught me that travel is more than the seeing of the sights, it is the sharing of experiences and it is about the connections we make.
With the spirit of ubuntu, I go forward.