Snorkeling the amazing coral reefs of the Florida Keys
The first time I snorkelled, I was 16 years old. It was October 1987, and I was in Barbados with my dad. I picked up some gear from a kiosk on the beach of our hotel in Christ Church and swam to the reef not far from shore. I didn't know how to snorkel or knew what I would find there. Every time I saw a fish, I went the other way. True story.
Despite my initial fear, my appreciation and love for the ocean have grown over the years, and my fear of its inhabitants has dissipated. Not to say that poking my head underwater still doesn't give me pause, but I no longer go the other way. I've snorkeled several times since then, and in November 2015 I enjoyed three days of snorkeling in the remote Mergui Archipelago of South Myanmar.
I love to travel to destinations that offer opportunities to see animals and marine life in their natural environments. It is important for me to be able to share those experiences with my two sons in hopes that they too will love our natural world.
In November 2016, I decided to take my 11-year-old son to the Florida Keys to snorkel after learning that the Keys is home to the third largest coral barrier reef system in the world. He had never done so in the open ocean before or in a coral reef. I made a plan to snorkel three reefs in the protected Florida Keys National Marine Sanctuary.
With so much talk of the damaged and dying coral reefs around the world, it was hopeful to see the abundant coral and marine life in the sites we visited. In my research, I learned of the coral reef restoration project by Mote Marine Laboratory at their Mote Tropical Research Laboratory in Summerland Key.
Tips to Prepare for a Snorkeling Trip with Children
I was able to take my 11-year old son on this trip, but I didn't bring my 6-year old (soon to be 7) son because he hasn't yet swum or snorkeled in saltwater and he tends to be more cautious and sometimes fearful. I also didn't have my husband or another adult along who could either sit out with him if he wanted to get out early or be in the water with my other child.
We have been planning for a future snorkeling trip with my youngest son. Here are some of the ways we've been preparing since he was 4 years old. We hope to take him some time this year or in the first half of 2018.
Swim lessons
Consider investing in a dry top snorkel set with just the mask or a set that has fins they can grow with. A dry top snorkel helps to keep the water out of the top which has been very helpful, especially with children.
Practice swimming in lakes close to home, so they get used to the open water feel of it
Practice snorkeling in swimming pools
Research what marine life you will see and get them involved and excited
Talk about all the colours of the marine life
All three tour operators included masks, snorkels, fins, snorkel vests and offered water noodles. They all had an anti-fog solution and a rinse bucket available. We brought our dry top snorkel and mask but borrowed fins. The snorkel vests were mandatory, but you could inflate/deflate as much as you wanted. I also enjoyed the use of the noodle as it helped keep my hands free to take video.
We chose all afternoon trips as it gave us a chance to do other activities in the morning, check out of hotels and travel the Keys.
General tips to prepare for a snorkel trip
Check out the Tropical Snorkeling blog  for fantastic information about snorkeling in the Florida Keys and other destinations around the world. I've taken their advice for snorkeling in Aruba too.
Always use only reef-friendly sunscreen
Take your own anti-fog solution so you can practice snorkeling or get in extra snorkeling from shore before your snorkel excursion
Consider a long-sleeve UV protected swim shirt or rash guard for children and adults
Take an easy to pack beach or wet bag. It's especially helpful if you get one last snorkel in and then you have to fly out the same day and your swimwear hasn't had time to dry.
Take water shoes, water hats, water flap hats
Consider bringing your own snorkel vest for snorkeling from shore
Don't forget a small dry bag to keep your valuables dry such as your cell phone, car/hotel room keys and money.
Don't forget insurance and make sure it covers adventure travel insurance. Also, check what your credit card covers.
Our Snorkeling Itinerary with 3 Snorkel Tour Operators: 
Day 1, departure from Duck Key
We spent two nights at Hawks Cay Resort (read our experience here) and booked our first snorkeling trip in the Keys with Sundance Watersports.
After a friendly check-in, we boarded Blue, a 65-foot catamaran, on a beautiful sunny day. Blue is a perfect boat for snorkelling trips as it has sturdy ladders off the back for easy entry, seats along the perimeter, wide open space in the middle, and shower heads on board to rinse the salt water off after snorkeling.
We arrived at the Stake and were greeted by small flying fish. After instructions from the Captain and staff, we took to the glistening azure waters. The waves were a little choppy, but visibility was good. We saw French, Queen and Gray Angelfish, Blue and Stoplight Parrotfish, Great Barracuda, Blue Hamlet, Wrasse, Trunkfish, Sergeant Major, Yellow Jack, Butterflyfish and countless other tropical fish species.
Thanks to the team at Sundance and their helpful instructions on how and where to snorkel, my son had an incredible first experience snorkeling; we were the last ones back to the boat.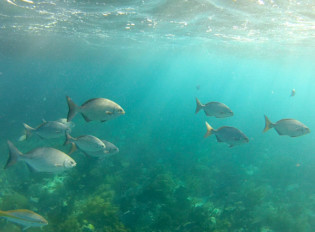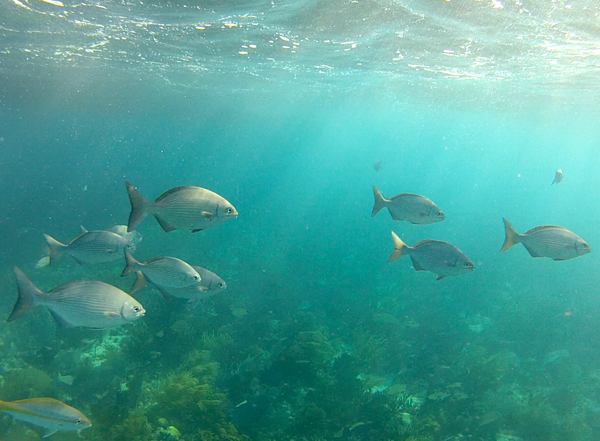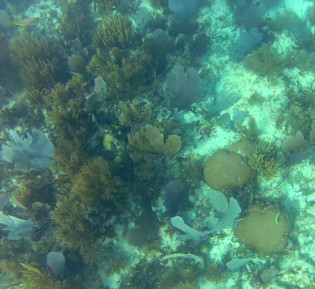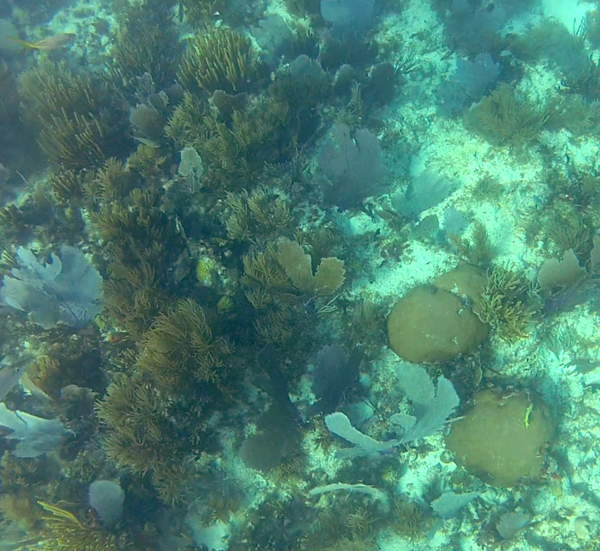 Who: Sundance Watersports at Hawks Cay Marina – https://www.hawkscay.com/watersports
Where: Depart from Hawks Cay Marina at mile marker 61 and travel about 4 miles offshore to The Stake at Coffins Patch.
Note: You don't have to be a guest of Hawks Cay to snorkel with Sundance. However, it did make it convenient to be a guest there as you can enjoy water activities in the morning, have brunch at the resort, relax and change in your room and then take the tram to the marina for afternoon snorkeling. At the marina, there is a store called the Dockside shop, and it has change rooms. You can purchase snacks and drinks to take on board.
Snorkeling with Children: Coffins Patch appeared to be the most shallow of the three reefs which brought us closer to the reef and made underwater viewing easier. My son had no problem snorkeling there. I recommend this for children 6-7 years old+ who can swim, are comfortable in the water/salt water and with getting splashed as there will most likely be some waves even if the waves are small. Consider your children's personality and abilities. There was a young child about 4-5 years old on board; he was in the water for only a few minutes as he was afraid. It's a fantastic beginner reef with much to see.
About Coffins Patch from Franko Maps:
To 25′  Beginner.  Southern stingrays, brain coral, fire coral, and pillar coral are common here.  Visibility is sometimes good here, sometimes not so good.  A great place for snorkeling.  Caution:  Surgy, fire coral.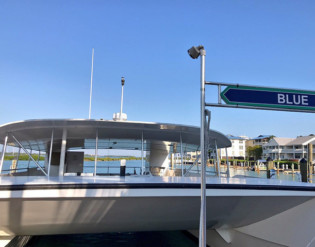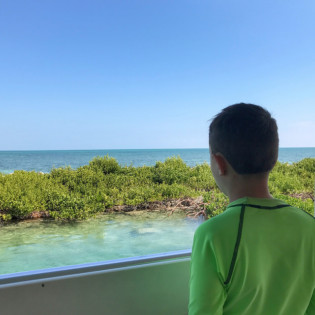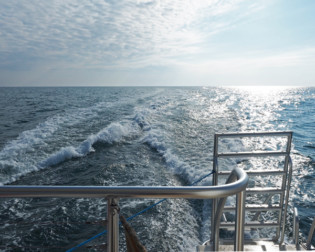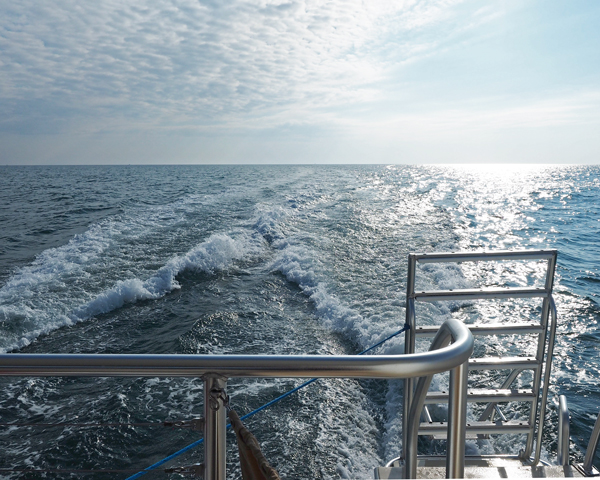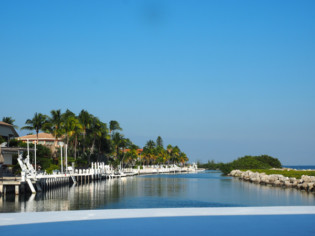 Day 2, departure from Marathon 
When I called to book with Spirit Snorkeling, they weren't sure if they were going out as the forecast had called for high wind. Fortunately, it wasn't windy, and we were off to Sombrero Reef for our second snorkeling excursion in the Florida Keys.
It was another sunny day, and the ride to the reef took us under the 7-mile bridge to the Sombrero Lighthouse. It was a smooth ride out, and visibility was good. We saw a variety of fish and coral, much like Coffin Patch plus some marine life we hadn't yet seen such as Blue Tang, Banded Butterfly, Scrawled Filefish and Jellyfish. Some snorkelers in the group saw an eel, sea turtle and nurse shark. Sombrero is a spur and groove coral reef and was deeper than Coffins Patch, but we could still see the marine life, just not as close. With calm seas and good visibility, it is a special place in the Florida Keys.
Kim (divemaster) was friendly and helpful. The boat was equipped with ladders off the side and back. It also had a rope platform to sit on in the front of the vessel. After snorkelling, we were given lollipops to help get rid of the saltwater feeling on our lips. What a great idea and it worked.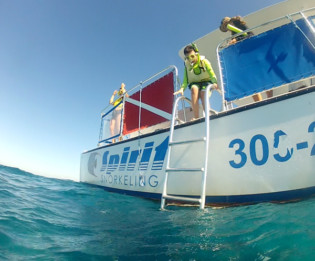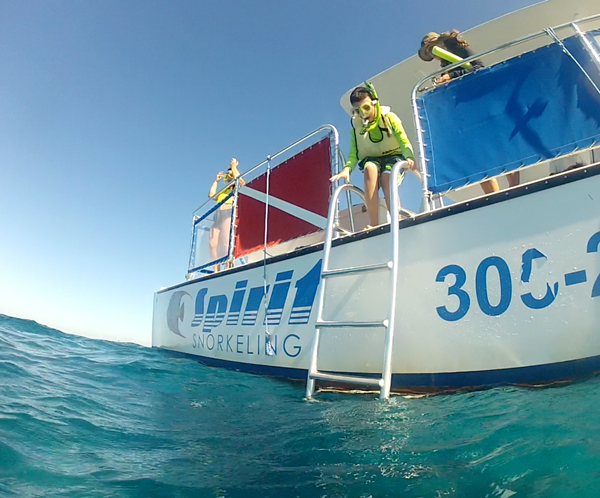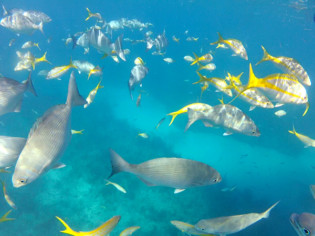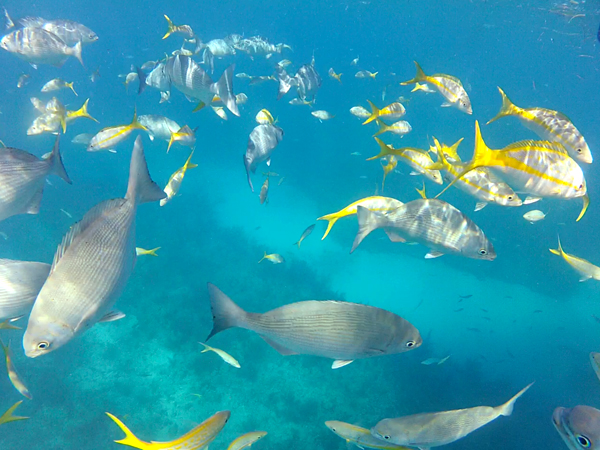 Who: Spirit Snorkelling –  http://captainpips.com/snorkeling/
Where: Depart from Captain Pip's Marina at mile marker 47.5 and travel about six miles offshore to Sombrero Reef at the Sombrero Lighthouse
Notes: There is a change room/bathroom available at the marina should you need it. There were plastic round tubs to keep our bags dry. They also offer snacks and sodas on board, and you can bring alcoholic drinks.
Snorkelling with Children: My 11-year old son had no problem snorkeling there. It is deeper than Coffins Patch but some parts of the reef came closer to the top which made it easy enough to see the fish. There was a 6-year old girl on board who snorkelled for an hour, I don't know her previous swimming or snorkeling experience. I recommend Sombrero Reef for children who can swim, are comfortable in the water/salt water and with getting splashed as there will most likely be some waves even if the waves are small. Consider your children's age, personality and abilities as it is further out and deeper.
About Sombrero Reef from Franko Maps:
To 35′  Beginner – Intermediate.  Marked by the 142-foot Sombrero Key Light, built in 1858.  This classic spur-and-groove reef system provides sand channel alleys and finger reefs just loaded with fish and giant brain coral, which make for cleaning stations for barracuda, turtles and other customers who come to be picked clean by tiny cleaner wrasse.  This site is terrific for snorkeling.  Caution:  Currents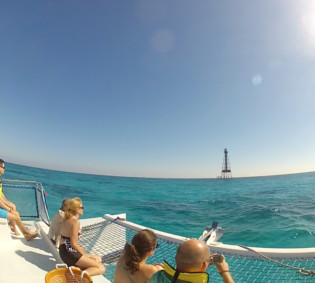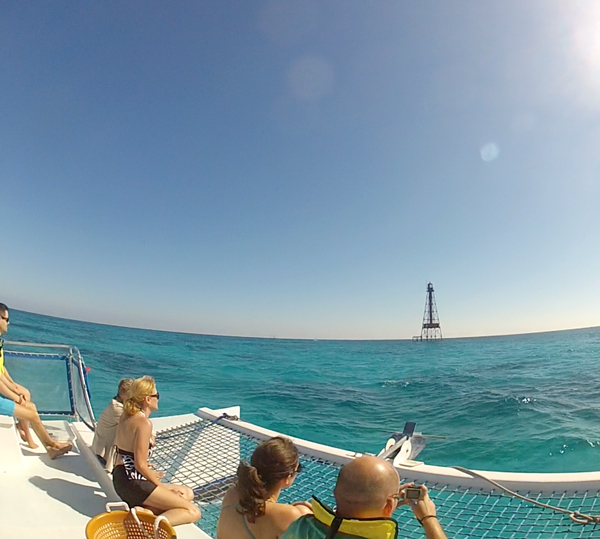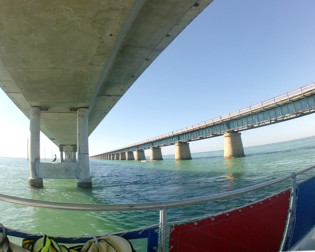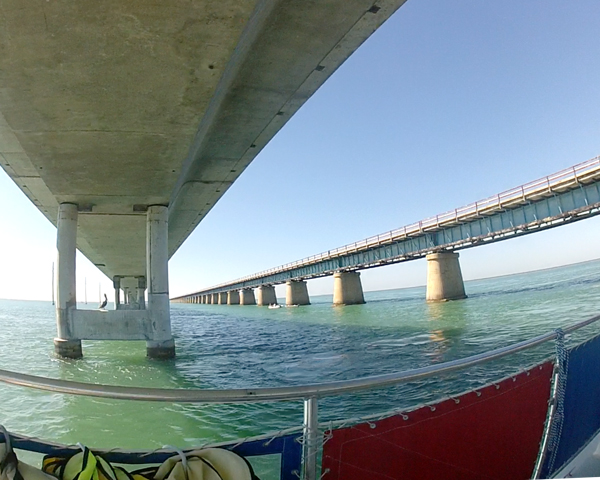 Day 3, departure from Ramrod Key
Our final snorkel trip was to Looe Key Reef with a fully outfitted dive centre, and we had several divers on board. In my research about Looe Key, I kept coming across the phrase "not for the faint of heart".  My understanding is that Looe Key is on the edge of the barrier reef. The reef was deeper than the previous two reefs we snorkelled, but with the large reef patches that came closer to the surface, viewing was great. If some members of your group or family scuba dive, this is a fantastic reef for you. So much to explore. It's an exciting reef.
We lucked out with the third day of sunny skies and good visibility. This time we were aboard Kokomo Cat II, a 45-foot Catamaran with ladders on the side. We saw many of the same fish we had seen at the other two reefs and others I haven't ever seen before like the Horse-eye Jack and Black Durgon. We saw a lot more Great Barracuda and the ones we saw were larger and swam closer to the surface. We also saw moon jellyfish and had an incredible sighting of three goliath groupers, one in the first location and two in the second. The moon jellyfish and groupers made my son a bit nervous but he handled it really well and again we were amongst the last to get back on the boat. The goliath groupers are a protected species, and they had to be about 150-200 lbs or more. I was secretly hoping for a sighting of a nurse shark. Others in our group saw a reef, hammerhead or nurse shark.
Looe Key Dive Center is an excellent, friendly and professional snorkel and dive operator. The staff were knowledgeable and helpful. They also have a motel and tiki bar on-site.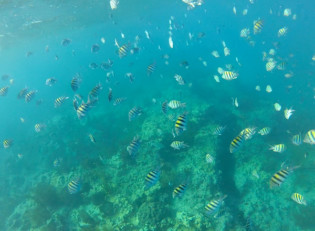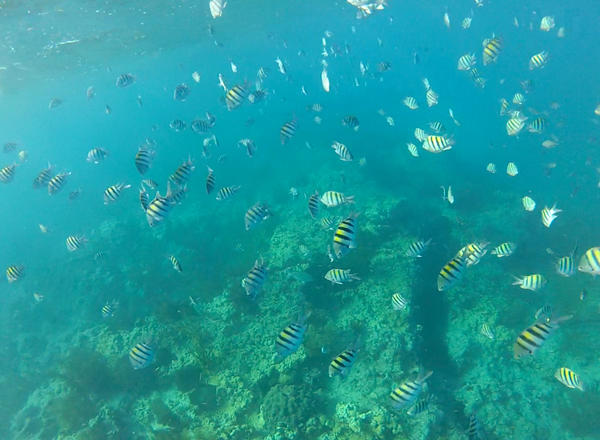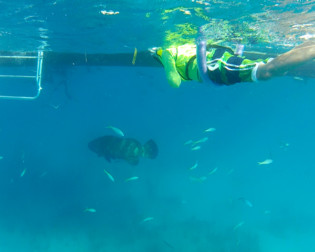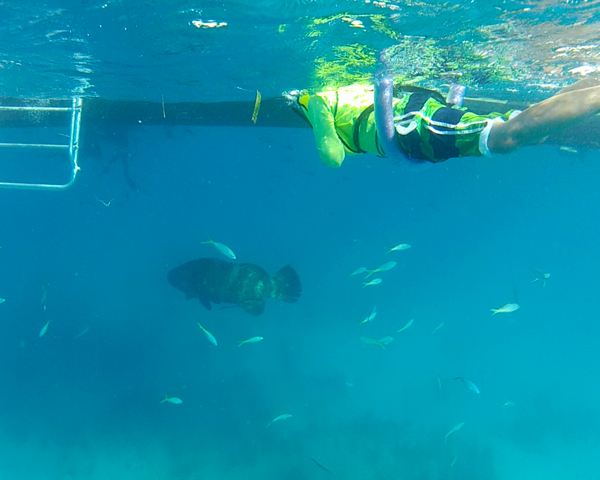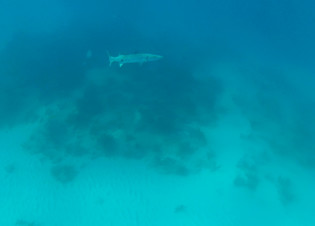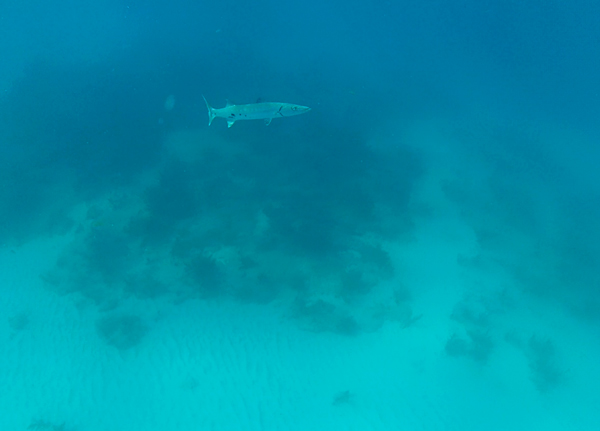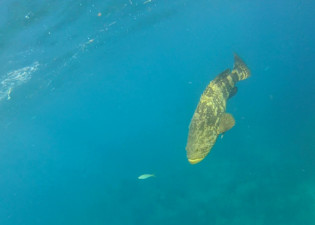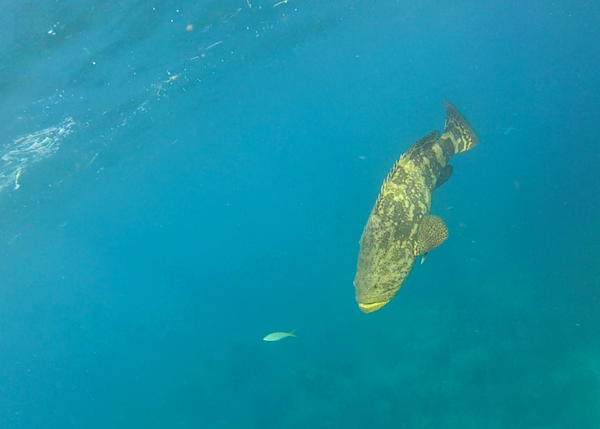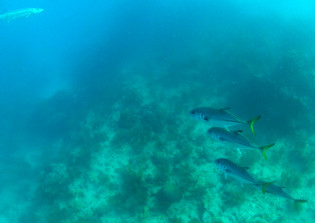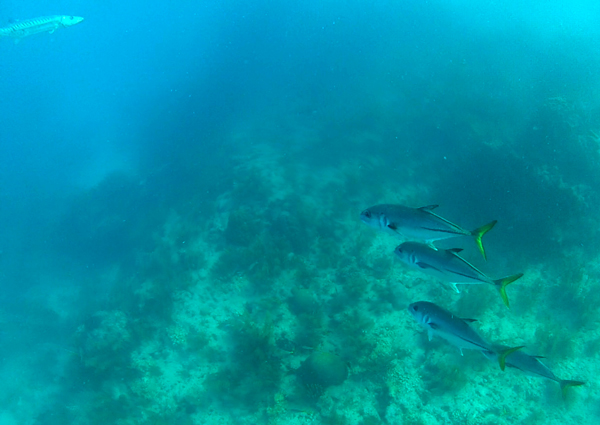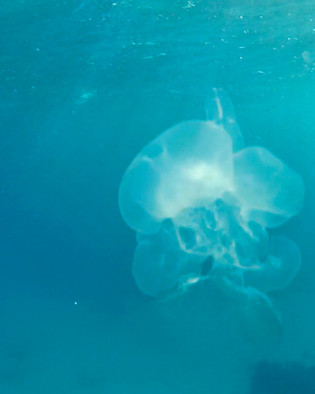 Who: Looe Key Dive Center & Resort – http://www.diveflakeys.com
Where: We departed the Looe Key Dive Center Marina at mile marker 27.5 to Looe Key Reef, about 5 miles offshore. We snorkelled in two locations for an hour each.
Notes: Arrive a little early to browse the shop, and you need to sign a waiver before boarding. You can purchase reef-friendly sunscreen here. It's the closest operator to Looe Key reef, so you spend less time on the boat and more time in the water. The captain cooks hot dogs between snorkel spots; my son loved that. They also sell snacks and soft drinks on the boat.
Snorkelling with Children: My 11-year old did well at this reef though he was a little nervous of the moon jellyfish. Admittedly, I was a bit too as I hadn't ever snorkelled with jellyfish before. However, they are slow swimmers, so there is time to move away from them. Be aware if you're snorkelling in August and September as I understand that is moon jellyfish season. I recommend Looe Key Reef for children with intermediate swimming skills, are quite comfortable in the water/salt water, with marine life and with getting splashed as there will most likely be some waves even if the waves are small. The fish were bigger here than the fish in the previous two reefs. There is a possibility of seeing sharks as well as the large groupers. My son was also nervous of the groupers, but they didn't come too close. Consider your children's personality and abilities. There was a 10-year-old on board who was audibly nervous. He didn't have previous snorkeling experience but snorkeled for about an hour. He didn't snorkel in the second location.
I don't think I would bring my 6-year old (soon to be 7) son to this reef. I would wait until he is a more experienced swimmer and less cautious/fearful and I would definitely want to have one adult per child in this reef.
About Looe Key Reef from Franko Maps:
EAST END to 35′ Intermediate.  "The name comes from the British Man-O-War, HMS Looe, which ran into the reef here and sank in 1744.  The reef is made up of parallel limestone ridges that come within 10 feet of the surface.  Looe Key dive is absolutely brilliant over an 800 yard stretch.  Here you will find a variety of soft and hard corals, sea plumes, sea fans, sea rods, and sea whips.  A good snorkeling site.  Caution:  Surgy."
WEST END  to 35′  Intermediate.  The Looe Key consists of 800 yards of magnificent underwater variety, which is perhaps equal to the entire Florida Keys' collective assortment.  In fact, a common nickname for this  reef is the Jewel of the Middle Keys.  The west end is a classic spur-and-groove reef formation where you will find brain, star, and giant star corals, brown tube and orange elephant ear sponges, elkhorn coral, yellowtail snapper, sergeant majors, surgeonfish, French grunts, damselfish, barracuda, mutton snapper, and Nassau groupers.  This is also a good snorkeling site.  Caution:  Surginess can make for an added challenge, but the Gulf Stream Current can be very difficult.  The current sometimes rips along at over 3 kts., making this a great drift dive, but it is very demanding on the dive boat operator to make sure you don't wind up heading for Europe.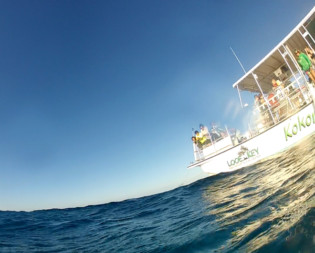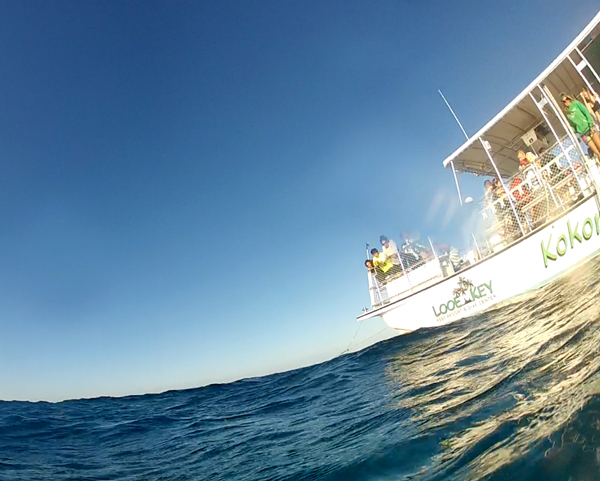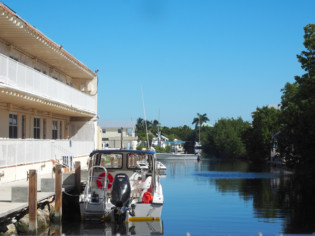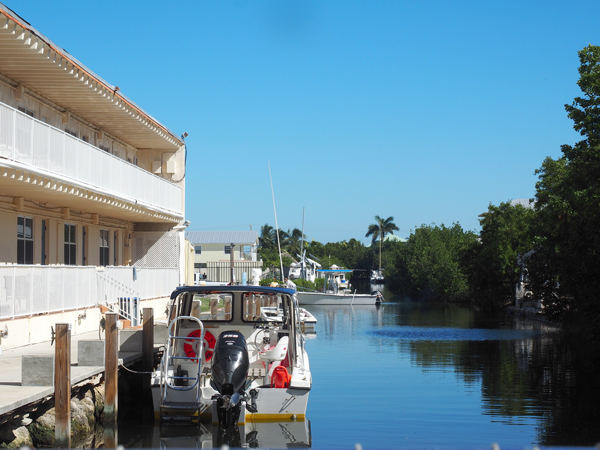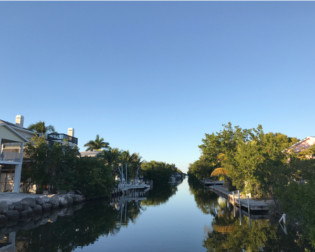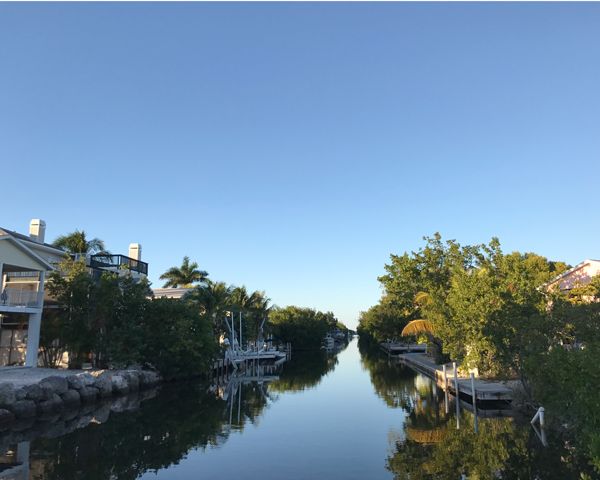 —
A return to the Florida Keys 
I returned to the Florida Keys in early January, this time with my oldest niece in hopes of snorkeling again. Here are my follow-up experiences with the same three snorkeling tour operators:
Sundance Watersports
We attempted to book a snorkeling trip with Sundance, but unfortunately, all excursions were cancelled due to the expected high winds. I have to give a shout out to Fourie (sp?) at Sundance as he was extremely helpful in explaining the situation and pushing our reservation to the following days while we were in the Keys in hopes the winds would die down, sadly, they didn't.
Spirit Snorkeling
This time there were high winds as mentioned above, and the Captain decided to go out. As we made our way past the 7-mile bridge, the seas were rough, and the waves got increasingly bigger as we got closer to the Lighthouse. I wondered if we were going to turn back because as the front of the vessel dipped into the waves, water spilt into the boat. The guests seated at the front were soaked. The boat filled with some water, fortunately, the boat is made for that, and the water quickly flowed out of the drainage holes. I wondered about visibility in the water and was also concerned about the senior snorkelers on board as it was hard to walk around the boat and navigate the ladder. Visibility was not good, at maybe 3-4 feet. Despite that, I managed to see about five different species of fish in the ten minutes we had in the water before we were abruptly called back to the boat due to the black clouds and the storm rolling in. We got caught in the rainstorm on the way back to the safe harbour.  The ride back in was smoother than the way out to the reef due to the wind being at our backs instead.
I believe the Captain did the best job he could, given the conditions. However, I feel a partial refund should have been offered as we only had ten minutes to snorkel and many had less than that. I don't think I would have allowed my 11-year old son to get in the water had he been with me that day. Once my head was down and looking underwater, the waves didn't bother me. My issue was poor visibility.
I would still recommend a trip with Spirit Snorkelling on days that don't have strong winds as my first experience with them was perfect. I would have preferred to have been told that visibility would be poor and that the seas would be rough when I called or at check-in with the option to cancel or reschedule. I feel that we should not have gone out that day because what is the point of snorkeling in such poor visibility and rough seas. We were told that the storm was due to arrive at 4 pm and we were to be back at the dock by about 3 pm. It came early.
Tip: If there is a visible sway of palm trees (wind) and you are at all concerned, call another operator to see if they are going out. Make your decision based on that, if you could handle rough seas and your abilities.
Looe Key Dive Center and Resort
I stopped at the Looe Key Dive Center and asked if they would be going out that day or any dates that week. All excursions were cancelled due to the high winds expected for several days/weeks but recommended we check with an operator that has a larger boat in Key West, to see if they would be going out.
I hope this guide will help you experience the best snorkeling the Florida Keys has to offer. Stay tuned for video footage.
Until next time,
Andrea
Disclaimer: I received a complimentary snorkel trip for two from Sundance Watersports as part of my stay at Hawks Cay Resort. As always, choice of activities as well opinions are strictly my own. Most photos are screenshots from video captured with a Go Pro Hero 2.